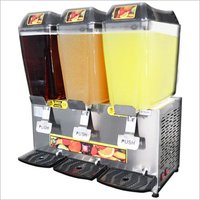 Semi Automatic Slush Machine
Product Description
We are instrumental in providing our clients a comprehensive assortment of Semi Automatic Slush Machine. Wide used in bars, restaurants, cafeterias, food joints and ice cream parlours, these slush machines are offered in different models. This machine immensely used for making variety of frozen beverages. Our offered Semi Automatic Slush Machine is highly reckoned in market for its proficiency and less consumption of power. We assure our clients quality features and different specifications of this slush machine at affordable rates.
Product Details
Shatter-resistant, hygienic and provides polycarbonate container
New system taps.
Electromagnetic pump / motor silent redictor.
Stainless steel side and front surfaces.
Quiet, durable, powerful compressor used.
Due to the design allows easy maintenance and cleaning.
Options:
20lt (single), 20+20lt (dual), 20+20+20lt (triple), 7lt (mini), 17lt (elegance)
Specifications
| | | | | | |
| --- | --- | --- | --- | --- | --- |
| Model | Capacity | Dimensions | Power | Net Weight | Package Dimensions |
| ST 10 | 20 lt. | 230*470*760mm | 550 | 22 kg | 460*265*795mm |
| ST 11 | 20 lt. | 230*470*760mm | 550 kcal | 22 kg | 460*265*795mm |
| ST 12 | 20+20 lt. | 440*470*760mm | 720 kcal | 30 kg | 515*475*810mm |
| ST 13 | 20+20 lt. | 440*470*760mm | 720 kcal | 30 kg | 515*475*810mm |
| ST 14 | 20+20 lt. | 650*470*760mm | 720 kcal | 30 kg | 515*475*810mm |
| ST 16 | 20+20+20 lt. | 650*470*760mm | 1100 kcal | 40 kg | 720*475*810mm |
| ST 17 | 20+20+20 lt. | 650*470*760mm | 1100 kcal | 40 kg | 720*475*810mm |
| ST 18 | 7 lt. | 250*370*710mm | 400 kcal | 15 kg | 390*325*685mm |
| ST 15 | 17 lt. | 350*430*780mm | 550 kcal | 22 kg | 490*430*720mm |