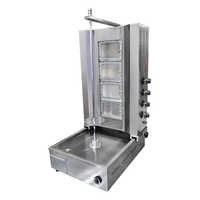 Stainless Steel Gas Kebab machine
Product Description
With a vision to be a pioneer in our domain, we are emerging as one of the leading manufacturers and suppliers of Stainless Steel Gas Kebab Machine. It is a simple, fast and economical way to cook kebab shawarma & giros kebab. We manufacture this machine at our sound production unit using high quality materials. It's ceramic heaters provide a high radiant temperature sealing the meat giving a crispy outside & juicy / tender inside. This Stainless Steel Gas Kebab Machine is available in different specifications and is highly demanded in fast food restaurants.
Features:
Safe & easy to clean
Complies with all food & hygiene standards
Manual thickness adjustment

Product Details
Serial and frequent use gives the best performance.
Radiants used in long-lasting.
Quality gas valves.
Safety valve system automatically cuts off the gas.
3 and 4 as 2 burners model.
ROBAX glazed ceramic models are available.
Durable bearing system moves back and forth with the cooking box.
Doners have oil collector.
Bottom engine is provided with a uniform cooking.
Options: 3 Radians (Gas), 4 Radians (Gas)
Specifications
| | | |
| --- | --- | --- |
| Capacity | Power | Consumption |
| 2 Burner | 6500 Watt | 0.6 kg/h – 0.66m3/h |
| 3 Burner | 9750 Watt | 0,9 kg/h – 0,99m3/h |
| 4 Burner | 13000 Watt | 1,2 kg/h – 1,32m3/h |