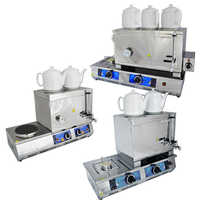 Stainless Steel Tea and Coffee Machines
Product Description
We have earned our name as a renowned manufacturer and supplier of Stainless Steel Tea and Coffee Machines. These machines are ideal for brewing and dispensing hot coffee and tea. If you ha a tea stall, coffee shop or a restaurants, you would like to have one of these machines. We use best quality materials and components to manufacture these machines. The non-drip valve of the machine makes sure that coffee is released only when the jug is under the nozzle while it is dispensing. We offer Stainless Steel Tea and Coffee Machines at pocket friendly prices to clients.
Features:
Easy to clean
Heater and stove for quick heating
Stainless steel construction

Product Details

Service equipment.
Boilers 304 chrome 18/10 stainless steel.
430 quality stainless steel cookers.
Provides for the appropriate use of mass consumption.
5 size model responds to every request.
Hygienic and durable.
The new model of burner system efficient.
Boiler burner system is equipped with a cigarette lighter.
Ergonomic design provides ease of use.
Water has a display.
Provide hot water throughout the day.
Model provides ergonomic use of private hydrants.
Security system provides security against gas leakage gas valves.
Certified according to European Union norms.
Options: 13lt (one pot), 23lt (dual pot), 28lt (dual pot), 33lt (one pot), 13lt (one pot), 23lt (dual pot), 33lt (three pots), 58lt (four pots)
Specifications
| | | | | | |
| --- | --- | --- | --- | --- | --- |
| Model | Capacity | Dimensions | Power | Net Weight | consumption |
| N 10 | 13 kg | 480*240*380mm | 3800 Watt | 7 kg | 0,30g/h – 0,40m3/h |
| N 11 | 23 kg | 600*280*410mm | 4400 Watt | 9 kg | 0,35g/h – 0,46m3/h |
| N 12 | 28 kg | 600*280*460mm | 4400 Watt | 9,5 kg | 0,35g/h – 0,46m3/h |
| N 13 | 33 kg | 750*280*410mm | 5100 Watt | 11 kg | 0,40g/h – 0,5m3/h |
| Model | Capacity | Dimensions | Power | Net Weight | Package Dimensions |
| K 30 | 13 kg | 480*300*390mm | 1500 Watt | 6 kg | 265*440*250mm |
| K 31 | 23 kg | 600*390*420mm | 2000 Watt | 7 kg | 430*390*275mm |
| K 32 | 33 kg | 750*390*420mm | 2300 Watt | 8 kg | 560*480*310mm |
| K 33 | 58 kg | 900*390*510mm | 4000 Watt | 10,5 kg | 910*400*535mm |