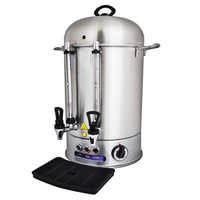 Stainless Steel Tea Brewing Machine
Product Description
We take immense pleasure to introduce ourselves as a trusted manufacturer and supplier of Stainless Steel Tea Brewing Machine. Making flavored tea is easy now thanks to this innovative tea brewing machine. This machine is ideal for self service stations, sandwich shops, convenience stores and takes out restaurants. To manufacture this machine, our expert workforce uses best quality stainless steel. Clients can avail our Stainless Steel Tea Brewing Machine in different designs and finishing as per their requirements.
Features:
Easy adjustable venture valve
Anti-drop pull-down spigot
Stainless steel construction
Product Details
304 stainless steel 18/10 chrome.
Stainless steel body and filter.
Prevents deterioration of the flavor of tea for a long time.
Suitable for mass consumption provides.
8 size model, with each student gives an answer.
Hygienic and long lasting.
With automatic temperature control system is efficient.
Heat insulated handle and portable.
Indication of the level of the water and have tea.
Water heating system was designed.
All day tea and hot water will not become stale.
Water boiler, corrosion resistance, non-shock tube is equipped with.
Faucet with a special ergonomic model provides.
When there is no electricity in the water tank of the device voice and gives off light warning.
Options: 5lt (40 Glass), 7lt (60 Glass), 9lt (80 Glass), 12lt (120 Glass), 15lt (160 Glass), 22lt (250 Glass), 36lt (400 Glass), 50lt (500 Glass)
Specifications
| | | | | | |
| --- | --- | --- | --- | --- | --- |
| Model | Capacity | Dimensions | Power | Net weight | Package dimensions |
| R 19 | 5 lt | 250*300*400mm | 900 Watt | 3,2 kg. | 250*250*400mm |
| R 20 | 7 lt | 280*300*415mm | 1200 Watt | 3,8 kg. | 290*290*430mm |
| R 21 | 9 lt | 300*340*450mm | 1400 Watt | 4,2 kg. | 300*300*465mm |
| R 22 | 12 lt | 325*365*490mm | 1750 Watt | 4,8 kg. | 315*315*505mm |
| R 23 | 15 lt | 340*380*480mm | 1750 Watt | 5 kg. | 335*335*515mm |
| R 24 | 22 lt | 385*420*510mm | 2200 Watt | 6,3 kg. | 370*370*495mm |
| R 18 | 36 lt | 450*500*575mm | 2750 Watt | 9 kg. | 505*505*410mm |
| R 99 | 50 lt | 485*535*590mm | 2750 Watt | 11 kg. | 535*500*460mm |